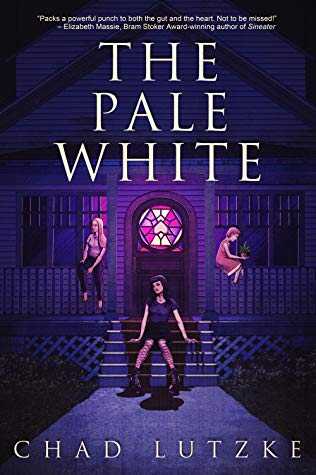 The Pale White is the third Chad Lutzke book I've read, and I'm definitely a fan. Each story has been unique, yet feels familiar. I've seen the phrase I got Lutzke'd on Twitter and that's exactly how The Pale White left me feeling.
After being held against their will in a house used for trafficking, three girls plan their escape.
This is a short book, at 96 pages, so I won't go into the plot details much. Most chapters are a page or two at most and the sentences are quick and visceral. Alex, Stacia, and Kammie must find a way to escape the house they've been trapped in. But once they're out, where will they go? How can they find justice for what has been done do them but also remain together and not tossed back into the system?
Because of the subject matter, this book is tough to read. As a parent, it's harder yet. Parents will especially relate to wanting nothing more than to protect their children. Lutzke has a way of being gentle with the story, filling in just enough detail and leaving the reader to fill in the blanks - it isn't a particularly graphic read, though horrible things happen.
But we're not alone. We're sisters. No, the bond is stronger. We're the Pale White.